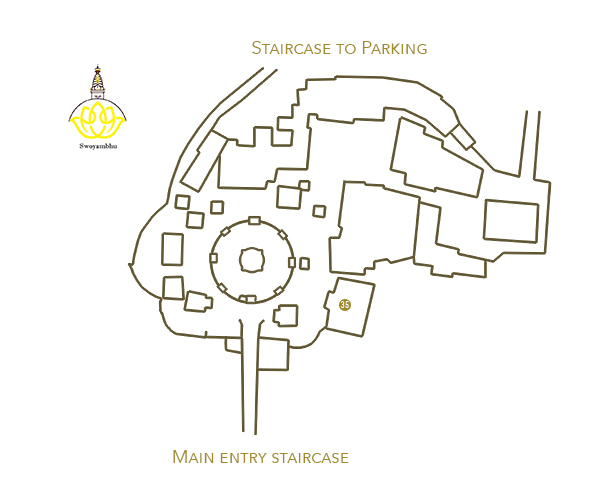 35. Karma Raja Maha Vihar
Karmaraja Gompa
( KarmaRaja Maha Vihar Monastery )
This south-facing monastery is situated on the north side of the Swoyambhu stupa. Before earthquake in 2015 it was five store building. It was badly damaged during the earthquake, therefore had to be demolished and rebuilt. Now it is four-store building, with two stores that can be seen form the ground area of Swoyambhu stupa.
History: 
Ven. Dagmar Tsamba Lobsang Yangphe from Drepung Monastery of Lhasa, and with his close friend Ven. Nono Dechen Dorje who assisted him, found this gompa (monastery) which was completed in 1959 A.D. Ven. Adhagmar Tsamba Lama was responsible for raising funds for the construction. Mr Nati buddhacharya and Sanukaji Buddhacharya who belong to priest family of Swoyambhu donated the land for construction of the monastery. Later on, the monastery was offered to His Holiness the Sixteenth Karmapa Ragjung Rigpe Dorje, thus becoming the second seat of the Kagyupa Lineage after the monastery of Rumtek Sikkim, India outside of Tibet. When 16th Karmapa passed away, the Monastery was under supervision of the 14th Shamarpa Mipham Chokey Lodro, and further passed to Thaye Dorje, the 17th Karmapa.
Names:
Visva Santi Mahavihara (World Peace Mahavihara), when the monastery was complete. Lama Dhamar Tsamba gave this name. 
Karmaraja Mahavihara  
Shedrup Chokhor Ling Gug Lhakhang is the name in the signboard.
Statues:
Inside of the monastery, we can find big 12 feet gilt copper image of the Sakyamuni Buddha. The statue was donated by Mr Juju Man Tamrakar from Mahabuddha Kathmandu, it was sculpted by Mr Kuver Singh Sakya from Mahabuddha, Thaina Lalitpur. 
There used to be an image of Guru Padmasambhava on the right to Buddha. It was donated by Lama sku- gzugs Kagyu from Kyirong and created by the Man Jyoti Sakya of Mahabuddha, Lalitpur. 
On the left from the Buddha Statue, there was a clay statue of the Sixteenth Gyalwa Karmapa. This image was made in Tibet in 1975 by an artisan from Kham Mr Choten. He also made other images of Guru Vajradhara, Karmapa, the sixteen arhats and many masters of this lineage, which are above the image of Guru Rinpoche. 
On the extreme right of the central image used to be gold gilt copper Chaitya, which contains the relics of the third Sabchu Rinpoche who was abbot in this monastery from 1955-1978.
Activities:
This monastery belong to Kagyupa Lineage, one of the four main sects of Tibetan Buddhism. The monks spend their days practicing meditation and reciting sacred Teachings of Buddha.
Few images of Karma Raja Maha Vihar Monastery after the 2015 earthquake: